With +350 sustainable energy production sites under management, Energy Solutions Group can collaborate and invest in sustainable energy projects on an international scale.
sustainable energy production sites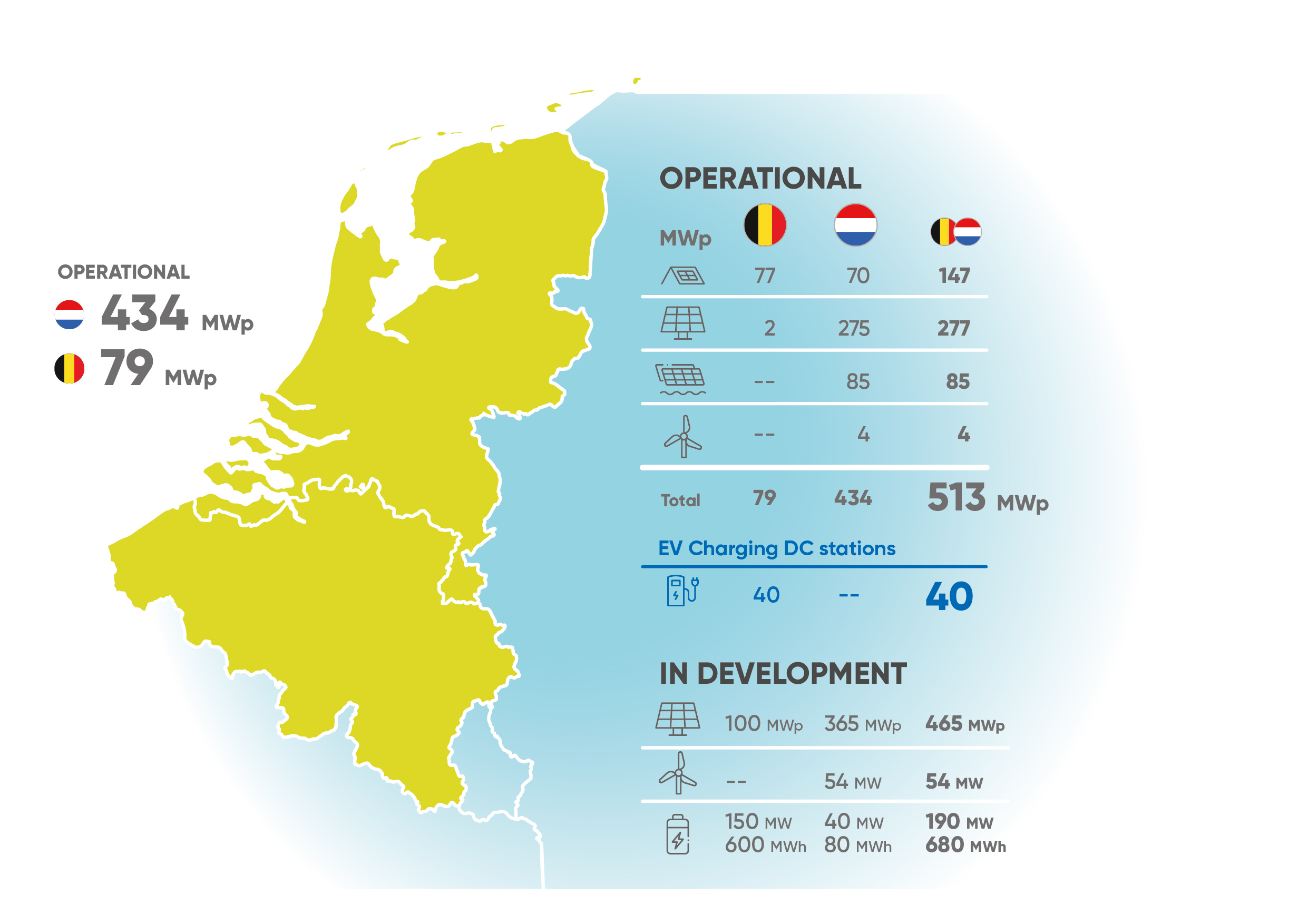 At Energy Solutions Group, we are dedicated to promoting the energy transition towards a more sustainable future. Our ambition is to take a leading role in the green energy market by providing infrastructure solutions in the fields of solar energy, wind energy, charging infrastructure, and energy storage.
Energy Solutions Group is an Independent Power Producer that distinguishes itself by combining operations & maintenance, positioning us as both a financial and industrial player. Our technical team, with over a decade of experience, performs the maintenance of the sites ourselves.
At Energy Solutions Group, we remain dedicated to developing and implementing industrial, sustainable energy solutions. Our goal is to make a lasting impact on the energy transition, while responsibly meeting the growing energy needs of our society in a future-proof manner.
Solar
Energy Solutions Group acquires and operates large-scale solar energy parks and installations, contributing to the transition towards a more sustainable energy landscape. We focus on executing projects with high energy yields to make a lasting impact on the energy market.
Wind
We invest in and manage wind turbine parks, contributing to the production of clean energy from renewable sources. Our expertise and commitment in this field allow us to optimize the lifespan and performance of these parks, which in turn aids in reducing global CO2 emissions
Charging
Energy Solutions Group is addressing the rising demand for electric mobility by deploying and managing fast charging infrastructure for electric vehicles. Through our hyperfast.be initiative, we are supporting the transition to electric mobility and promoting sustainable zero-emission transport solutions.
Storage/BESS
We invest in battery storage and battery energy storage systems (BESS) to ensure the stability of the energy network and to optimize the use of renewable energy sources. This technology helps to balance fluctuations in energy production and demand, enabling us to build a more reliable and sustainable energy system.